Notice: Undefined offset: 0 in /var/rubix/themes/ridewithenvy.com/apps/vehicles/_sections/model-page.q on line 9

Powered By Lithium Battery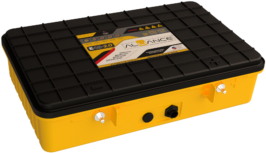 Get a 10% increase in power over a single lead acid battery with less than 1/3 of the weight with the Alliance Lithium battery from American Battery Solutions. Our NV4L comes with three lithium batteries and create the perfect power choice for the eNVy. Added benefits are lithium batteries are maintenance free, are rated for 5,000 cycles, and water and dust proof.

Additional battery packs for longer drive time are available to purchase through any authorized eNVy dealer.
Specifications
Frame
Powder Coated Fusion-Bonded Solid American Steel Bridge Frame
Body
Automotive Quality Acrylic Plastic
Front Tires
250/50 R15 4 ply
Rear Tires
250/50 R15 4 ply
Front & Rear Suspension
Dual A-Arm/Trailing Arm
Steering
Power Assisted Rack & Pinion
Braking System
Front Disc & Rear Drum
Parking System
Automatically Engaging Electric Brake
Seating
2 Forward Facing & 2 Rear Facing
Cargo Bed Space
37" x 44"
Auxiliary Power
12V Auxiliary & Double USB Port
Hitch
Optional 2" Receiver Hitch
Warranty
2 Year Limited Warranty
Display
7" LCD Touchscreen Display
Ignition
Keyless Ignition w/Security System
Engine
Brushless AC Motor Driven System
Battery System
3 - 48V Lithium Ion Batteries
Charging System
Integrated On-Board Charging System
Frame Clearance
8" from Trailing Arm Bracket/14" from Frame
Cargo Bed Capacity
450 lb Properly Loaded
Vehicle Payload
1,000 lb Passengers + Cargo
Towing Capacity
500 lb max
Protection
1.75'' Diameter Tubing Five Piece ROPS
Front Protection
Optional Front Bumper
Shift Indicator
3 Position Gear Indicator Switch
Headlights
High and Low Beam LED Headlights
Brake/Tail Lights
Standard
Speed Settings
Adjustable Parameters
Accessories
Bad Dawg Accessories, home of the highest quality, American Made UTV and Side-by-Side accessories available to the off-road industry, offer products for the eNVy. Almost all Bad Dawg products are manufactured in-house at our headquarters in Batesville, Arkansas.