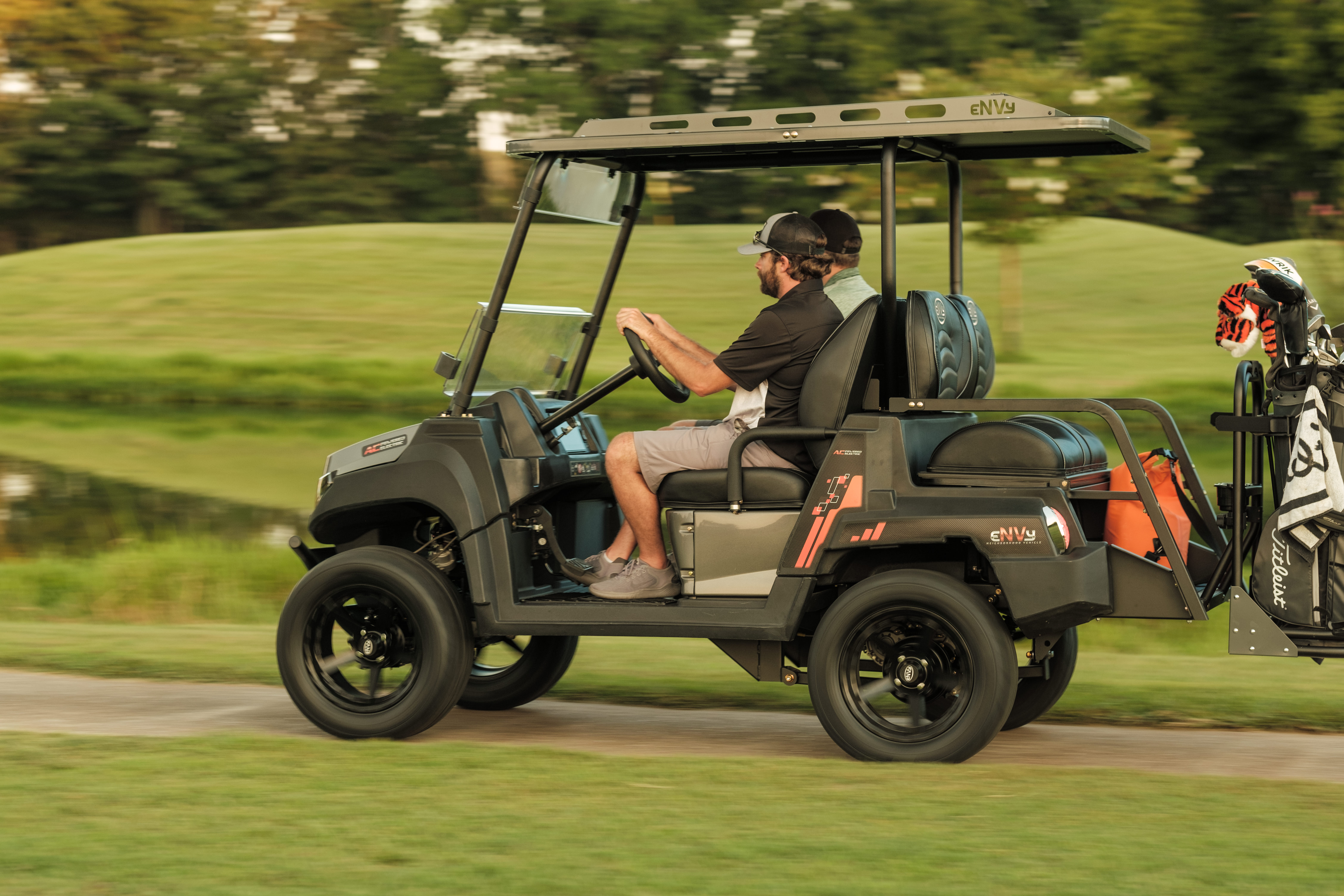 CRUISIN' on a…
June 24, 2022
After a long day's work there's nothing better than cruisin' down the road and letting all of the cares of the day just drift away! But - did you know there are several ways to cruise with the all-electric eNVy® Neighborhood Vehicle? As the eNVy craze is sweeping the nation, here are a few suggestions to help you relax and bring peace into your busy, hectic world!

CRUISIN' on a … SUNDAY AFTERNOON
ultra-quiet, electric "Neighborhood Vehicle" will get some major attention whether you're riding it around where you live or even making a quick trip to the grocery store around the block. Designed with durability in mind, the eNVy is built to last. The all-welded American steel frame creates the perfect base. Automotive plastics, electric motor, and plush seating are additional features that create a great ride.
CRUISIN' on a … GOLF COURSE
Up your game by taking the eNVy along with you on your next round of golf! With plenty of room for clubs, crew, gear, and refreshments, ditch the old, predictable, boring white golf cart and ride in style. With speeds up to 19 MPH and 52.2 ft. lb. of torque, you are sure to get where you're needed quietly and quickly. You'll not only be the talk of the club, but in your green eNVy, you'll blend in - literally!
CRUISIN' on a … JOB SITE
The eNVy is also becoming a popular item to have on the job! It is the perfect solution for transporting your crew and their gear! Emission free, the eNVy is powered by a ultra-quiet, brushless AC motor, with four 12-volt deep cycle batteries.
The less noise you have at any job is a win-win!
CRUISIN' on a … LAWN
In addition to traveling on sidewalks, roads and golf courses, the eNVy is your perfect assistant when it comes to landscaping and helping facilitate other projects around the house! With a cargo bed capacity of 450 pounds (properly loaded), you also have a total vehicle payload of 1,000 pounds. The 12-inch aluminum wheels and turf-friendly tires are easy on the lawn! So bring on the bags of mulch, fertilizer, garden and yard tools - and get a jump on your home improvement to-do list!


CRUISE AWAY!
Now is the best time to head to your local eNVy Neighborhood Vehicle Dealer, and get going on your next adventure - whether it's on the job, on the golf course, in your yard, or on a cruise in the neighborhood. With standard features such as turn signals, regenerative braking, intuitive smart dash, keyless ignition, power steering, and deluxe seating, you have to see it to believe it!
Cruise with eNVy!
Previous Blog
How Intimidator UTV Is Making A Lasting Impression On The UTV Industry
09/20/2018
Next Blog
4 Reasons Why You Need an Intimidator
09/20/2018